We have all your pool equipment needs. Please call us with any questions about parts, operating, or other information.
WhisperFlo High Performance Pump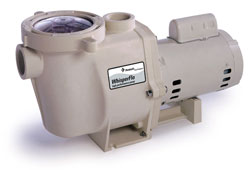 40% glass-filled thermoplastic with the Cam & Ramp "see thru" lid design. Self-priming, high flow with patented Funnel-Flo diffusers. 2 in. suction and discharge ports. Motor features threaded shaft and durable commercial duty 56 frame motor with NEMA square flange.
Featured Highlights:
* Oversized strainer basket and volute
* Standard and Energy-efficient Square Flange Motors available
* Lower hp's deliver higher performance than industry standard
* Compatible with all cleaning systems, various filters and jet action spas
* Heavy-duty/durable construction. The WhisperFlo® Pump is designed for long life
* Designed for residential and commercial applications
Pentair FNS Plus D.E. Filter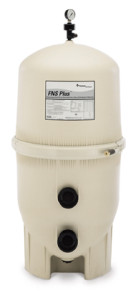 FNS® Plus Filters are fiberglass reinforced polypropylene of advanced chemical resistant materials for superior strength and reliability. The top manifold design features the Service-Ease grid pack for convenient one-at-a-time grid servicing.
Featured Highlights:
Superior strength
Service-Ease™ grid pack
Continuous High Flow™ internal air relief
100% factory tested
Top-to-bottom backwash
High Flow manual air relief valve
Tension Control™ clamp
Black valves and plumbing
1-1/2in. bottom clean out port
1-1/2in. centerline bulkhead fittings
Rainbow Model 300/320 Automatic Feeders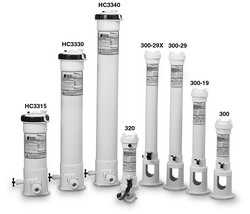 Years of customer use and satisfaction have proven the Rainbow feeders to be the performance leader in pool & spa chemical dispensers.
Featured Highlights:
* 300 & 320 Series Feeders available in clear and amber for easy tablet level monitoring
* No special venting required
* Completely enclosed system
* No escaping gases
* All Rainbow Feeders are NSF Listed
* In-Line Feeders 320 Series. For permanent installation in return line of new or existing pools or spas. Installs in return line on pressure side of pump downstream of all equipment. Standard with 2 in. slip PVC fittings and adapters for 1 1/2 in.
* Off-Line Feeders 300 Series. Retrofits into existing pools or spas. Operates on pressure side of pump. Uses 1/4 in. feeder hoses, control valve and fittings.
Legend Platinum Inground Pool Cleaner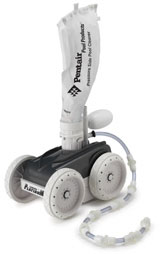 Pressure-side pool cleaner available for fast action and effective cleaning.
Featured Highlights:
* Dual jets for superior pool coverage
* Unique Four Wheel Design with Front Wheel Drive allows for better tracking and cleaning
* Heavy duty, large capacity twist lock bag for maintenance ease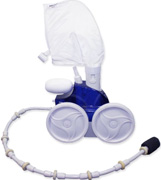 * Available in white or grey body colors
* White or grey wheel colors available
Polaris 380 Inground Pool Cleaner
Our most powerful and durable automatic pool cleaner easily connects to a dedicated pressure line. Powered by triple jets and a separate booster pump, the Polaris 380 is suitable for all in-ground pools. It sweeps, scrubs, and vacuums the bottom, walls, and steps of the pool trapping large debris like leaves and pebbles in its own filter bag. Also available in a BlackMax™ for dark bottom pools.
Scrubber60 Robotic Cleaner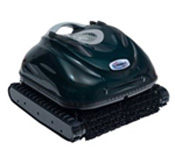 The Scrubber60 Robotic Pool Cleaner from SmartPool is the perfect choice for in-ground pools. The SmartPool Scrubber60 is recommended for all pool surface types including, vinyl liner, fiberglass, concrete, plaster and pebble finishes.
Featured Highlights:
* Cleans and Scrubs Floors, Walls, and Waterline
* Revolutionary LightWeight Design
* For Inground Pools up to 20' x 40' x 8' Deep
* Intelligent Navigation – Does Not Require Walls to Change Direction
* Dual Direct-Drive Motors for Greater Traction and Zero-Radius Turning
* Quick-Drain System for Lightweight Removal From Pool
* Brush-to-Port Suction for Thorough Vacuuming of Acorns, Leaves and Fine Debris
* Quick-Drain System for Lightweight Removal From Pool
* Two-Year Limited Manufacturers Warranty
* Extra-Large Filter Bag Capacity
* 60′ Power Cord
Pentair IntelliBright 5G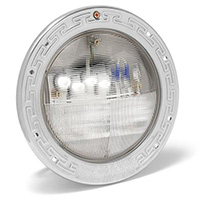 UNDERWATER LED LIGHTS FOR SWIMMING POOLS AND SPAS IntelliBrite 5g automated color-changing pool and spa lights feature LED technology; the wave of the future in energy efficiency, lifetime value, quality of light, and controllability. With IntelliBrite 5g, combinations of individual colored LEDs are mixed and matched to achieve a vibrant spectrum of colors. These combinations are power sequenced to illuminate and cycle through colors at varying speeds, and in different sequences of color. Combined with a custom reflector and unique lens design, the IntelliBrite 5g offers super efficiency while being the brightest yet most energy efficient underwater LED light available.
Featured Highlights:
A superior reflector design assures more light is directed toward the pool bottom to further increase intensity and color effects, while minimizing glare
Superior lens geometry distributes light in an optimum way to avoid "hot spots" on the pool bottom. Light intensity and color are distributed more uniformly throughout your pool
Pool lens can be rotated to 180 degrees to provide wide beam pattern (standard) or narrow beam pattern.
IntelliBrite technology makes use of the brightest and most energy efficient LED's available in underwater pool and spa lights – up to 50% less energy comsumption than competitor's lights.
Set one of 5 predetermined fixed colors to match or create the mood for the evening – blue, green, magenta, white, and red or select from 7 popular "color shows" that come preprogrammed into IntelliBrite
IntelliBrite was designed to work with IntelliTouch® and EasyTouch® the leading control systems for pool, spa, and poolscape equipment automation. In effect, you transfer control of IntelliBrite to the IntelliTouch or EasyTouch system which controls all your other backyard and pool features.
IntelliBrite 5g Color Pool lights are backwards compatible with first generation IntelliBrite lights.
IntelliChlor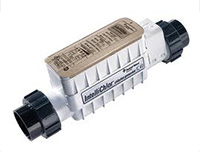 SALT CHLORINE GENERATOR
IntelliChlor Salt Chlorine Generator uses common table salt to produce all the chlorine a pool needs, safely, effectively, and automatically. Same sanitation performance as manual chlorine addition without the drawbacks. No need for customers to buy, transport and store chlorine compounds.
Featured Highlights:
Full diagnostic capabilities, including cell life tracking that communicates remaining hours of cell life in real-time. Captures all performance data daily (production settings, hours of operation, chlorine output, cell cleaning cycles, salt readings, and water temperature averages)
Push-button operation and easy-to-view displays enable fast checking of salt levels, cell cleanliness, sanitizer output, and water flow
Automatic shut-off feature protects the unit and prolongs cell life under low water temperature conditions
On-time cycling prevents calcium and scale build-up to maximize cell life
Ability to communicate with IntelliTouch®, EasyTouch®, and SunTouch Automation Systems
Certified to UL 1081 standard for safety
NSF approved
Health Canada approved
MasterTemp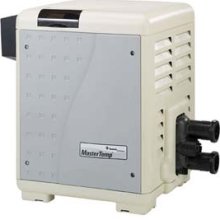 Ultra-high performance in a compact, quiet and eco-friendly design
Featured Highlights:
Controls rotate to 3 positions so there's no need to reverse the header, simplifying installation
Quick-change orifice allows easy conversion of gas sources
Compact design (21 L x 21W x 28 H) is easy to retrofit, no matter what the space challenges
Certified for low NOx emissions
Superior "best-in-class" energy-efficiency
Built-in carrying handles for easy transport
Top-mounted, large format digital display for easy viewing