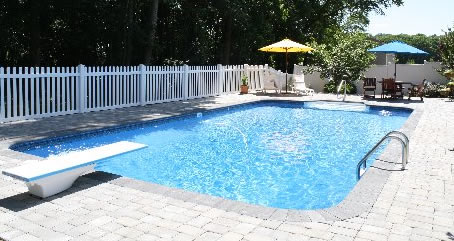 Every year I would say this is the year we get a pool. The years came and went…the summers got hotter. I was waiting until all the stars lined up and everything was in perfect order and then I would "splurge" for a pool. A friend of mine ask me last year "If not now…when?" I realized that every
summer that went by was another summer lost of enjoying the pool with my grandson. Yes indeed "If not now…when?"
I called several pool companies, but after meeting with Ray I decided to go with Sparkle Pools. I had ideas of my perfect pool and wanted to make sure every detail was given attention. I wanted the pool and pool deck to be an extension of the porch and house. Ray meet with me several times and was extremely patient listening to my ideas. Even though he has built hundreds and hundreds of pools I felt as if he truly cared that my pool be exactly what I envisioned. The process could not have been easier! To my surprise it was also cheaper than I thought! We were swimming within one week from the first dig. Everyone involved was professional and knowledgeable. Joey came out and gave us instructions on how to use the chemicals and filter system. It could not have been easier!
The service department is excellent. They closed the pool last fall and opened it this spring within a day or two of calling. Because of ours trees near the pool we decided at the last minute to put the cover on as a precaution when Hurricane Irene was forecast and the guys came out within hours and took care of it!
I would highly recommend Sparkle Pools to anyone who is thinking of installing a pool.
Jeanne Mazzatenta